Good morning after a few days off needed to get back to things again. Foggy this morning, not good if you are hunting or driving should burn off by 9 AM? . May take a while for the fog to burn off.
Forecast for the week today warmer temps in the 60's partly cloudy.
Sunday, sun early temps 60's may reach 70 depending on when the sun disappears. Chance of Rain overnight and into Monday - Wednesday. Cloudy for sometime I'm afraid Thursday the warm temps leave us and a cold front stays with us for several days bring a coat and long johns for Black Friday Sales.
Monday warm temps in to the 70's lows in the 50's good chance of precipitation overnight.
Tuesday temps mostly cloudy highs in 60's lows in 50's chance of rain.
Wednesday mostly cloudy highs in the 50's chance of thunderstorms lows in the 30's
Thursday Thanksgiving Day Sunny Cold temps in the 30's
Friday clear highs in 40's lows in the 30's
As stated in prior Blogs rain chances coming up this week looks to start a trend and start making a dent into the moisture deficit. See graph below for this weeks amount of rain predictions.
National Weather Service daily forecast
Below is updated features related to La Nina in the Pacific Ocean. thought it was cool and anything animated gets my attention and self updating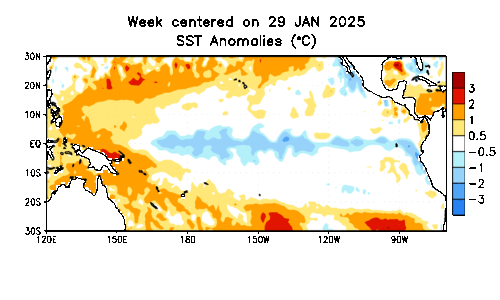 If the weather changes I will let you know